$

12.00
Rey Mysterio vs. Psychosis 20th Anniversary of their ECW matches Poster by Rockets Are Red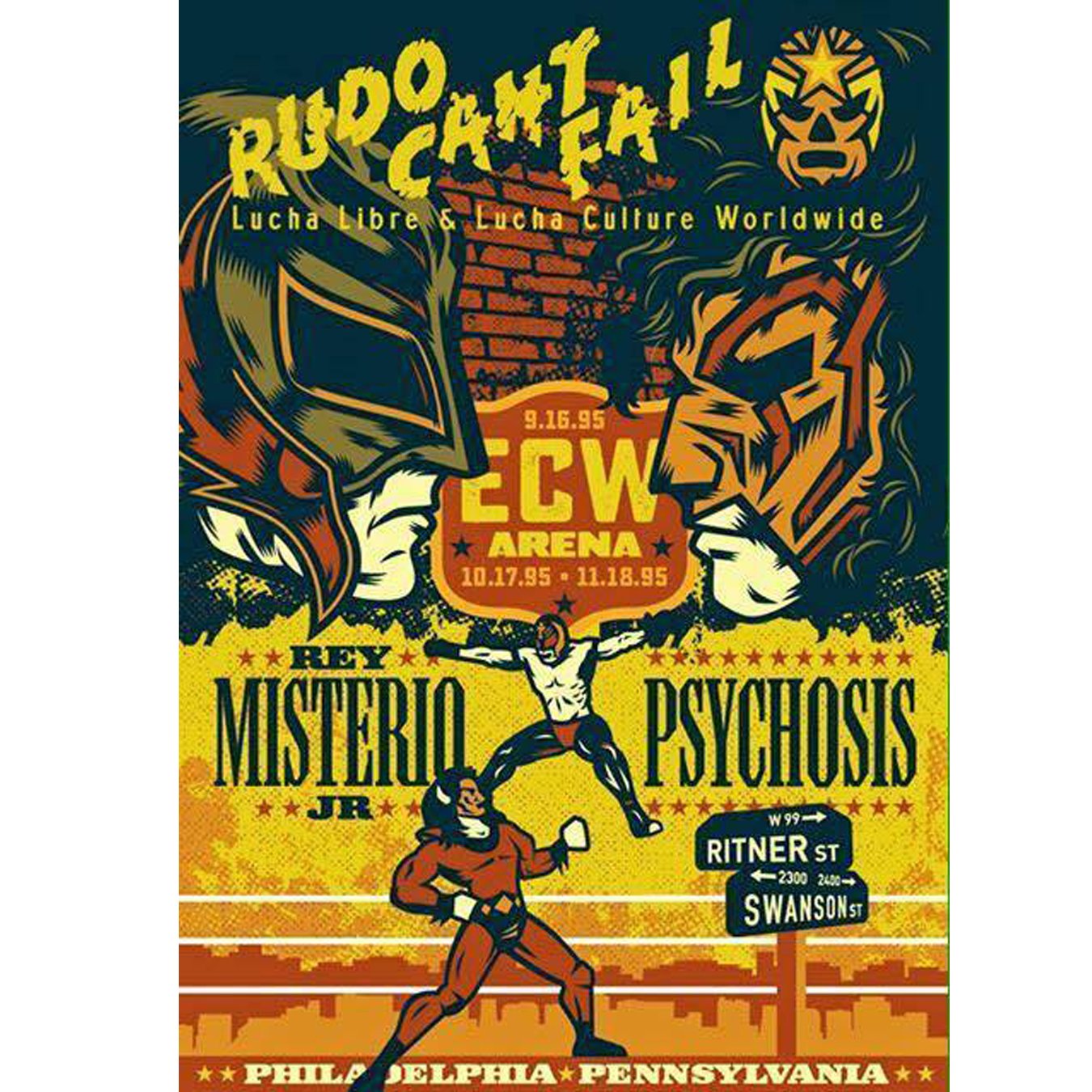 ONLY 10 REMAIN! ONCE THESE ARE GONE, THEY ARE GONE FOREVER!
PLEASE NOTE: THIS ITEM SHIPS IN IT'S OWN MAILING TUBE AND THEREFORE HAS IT'S OWN SHIPPING COSTS. IF ORDERING MULTIPLE POSTERS, EMAIL STORE@MASKEDREPUBLIC.COM IN ADVANCE IF YOU WANT TO COMBINE POSTERS.
In 1995, the wrestling world experienced a series of matches that would go on not only to change the careers of the two men involved, but the entire game of pro wrestling. Paul Heyman and Konnan bringing Rey Misterio Jr and Psychosis to ECW was a bold moved that opened wrestling's fans eyes to the world of lucha libre perhaps more than any previous series of matches or events.
Issue 2 of Rudo Can't Fail zine (available monthly in Lucha Loot, via subscription here at LuchaShop, or at select events and stores around the globe) featured a number of articles about the matches. Artist Jeffrey Everett, a.k.a. Rockets Are Red (who had previously worked with Masked Republic to create the official Hijo Del Perro Aguayo tribute t-shirt), created this amazing work honoring the 20th anniversary.
Now, 100 12x18 poster prints have been made. Each print is individually numbered. Prints are on a 14pt heavy cardstock and have a flat matte finish - the perfect collector's item ready for framing.
A VERY LIMITED number of the posters will be autographed by BOTH Rey Mysterio and Psychosis.
Posters will be mailed in a cardboard mailing tube (the cost of which is already calculated into the poster price).
ONCE THESE SELL OUT, THIS EXACT POSTER WILL NOT BE REPRINTED!
More on the artist:
Jeffrey Everett is a successful designer, illustrator, and author working outside of Washington, DC. Jeffrey has had the pleasure of designing and illustrating for a wide variety of entertainment, corporate, and non-profit clients. Jeffrey has created designs for such bands as Jason Mraz, Social Distortion, Foo Fighters, The Decemberists, Flight of the Conchords, Gaslight Anthem, Lou Reed, The Bouncing Souls, and A Day to Remember. He has created work for companies such as RedBull, Simon and Schuster, The New York Times, The Washington Post, The Washingtonian, Variety, Universal Records, LiveNation, Dreamworks, and more.
Jeff's work has been published in numerous books such as "New Vintage Type" and "Design Entrepreneur," and seen in major magazines including Print, Rolling Stone, Rock Sound, Alternative Press, HOW, and Step Inside Design. He has his MFA in Graphic Design from The School of Visual Arts in New York City, NY.
He is the recipient of gold and silver awards from The Art Directors Club and "best-in-categories" from the AdClub (Addys), and is included in multiple AIGA Fifty Show. His work has been stapled on walls of acclaimed rock clubs, inked into brave people's skin, and framed in high-end galleries around the world. Jeff is the author, curator, and designer of "1,000 Garment Graphics" for Rockport Press, and has taught and lectured for American University, University of Baltimore, Maryland Institute College of Art, and the AIGA. His work has sold in galleries in New York City, Los Angeles, Chicago, Boston, and Washington, DC.