$

20.00
LA PARK "La Autentica" - Silkscreen Art Print by Palehorse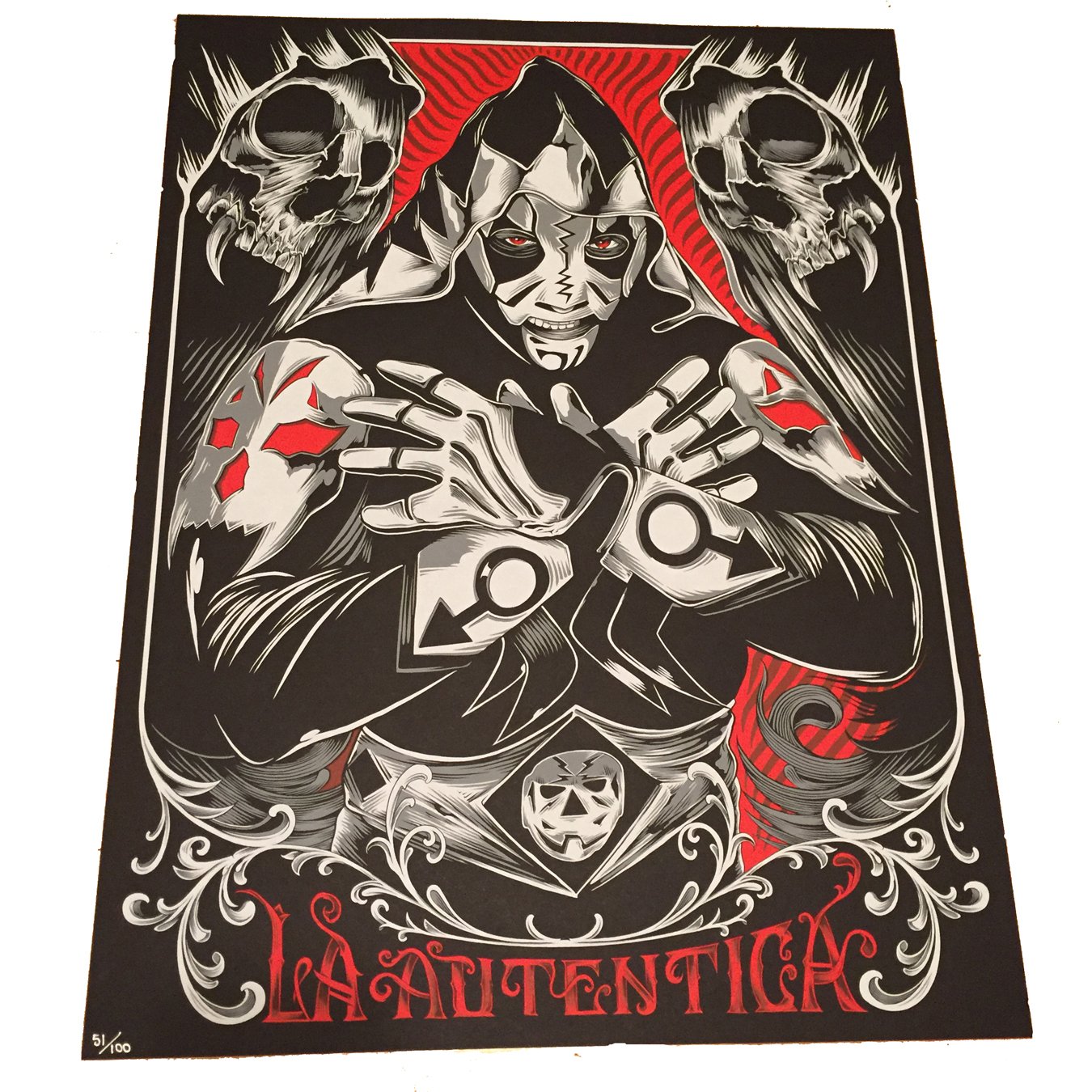 PLEASE NOTE: THIS ITEM SHIPS IN IT'S OWN MAILING TUBE AND THEREFORE HAS IT'S OWN SHIPPING COSTS. IF ORDERING MULTIPLE POSTERS, EMAIL STORE@MASKEDREPUBLIC.COM IN ADVANCE IF YOU WANT TO COMBINE POSTERS.
THIS IS AN EXTREMELY LIMITED EDITION PRINT. ONLY 100 MADE. EACH ART PRINT POSTER IS INDIVIDUALLY NUMBERED.
CURRENT PRINTS ARE #52 THRU #95 AND WILL BE SHIPPED FROM LOWEST TO HIGHEST #.
We are VERY excited to release our first LIMITED EDITION MR x PALE HORSE art print poster for one of our Masked Republic Mexican Megastars™. LA PARK has been known by many names including "La Parka" in AAA, ECW and WCW wherE he was also known as "The Chairman"! This true icon of lucha libre is the original - "La Autentica"! PALE HORSE has killed it DEAD on this one for "the skeleton who walks."
Art Print Poster Details:
18 x 24
Silkscreen print on thick black art paper
Printed by art print masters Valhalla Studios
Individually numbered #/100
Mailed in tube to protect both paper and print (cost of tube is included in shipping cost).
Below is the original MR x PH press release for more details on the partnership and this amazing visual artist:
Masked Republic Launches "MR x Collabs" With International Artist Pale Horse
Mexican Megastar™ icons to be featured on apparel, merchandise and artwork by groundbreaking artist.
San Diego, CA & St. Petersburg, FL –
Masked Republic, the only company in the world "Dedicated To Expanding Lucha Libre Beyond the Borders of Mexico"™ is bringing their Mexican Megastar™ luchadores out of the ring and into brand new art collaborations with world class illustrator, Pale Horse.
"The world of lucha libre has long been known for its colorful characters, detailed masks and an artistic nature that separates it from other forms of pro wrestling," said Kevin Kleinrock, Masked Republic President. "There is also a cross cultural appeal with lucha libre that goes beyond geographic and language boundaries. And now, we are extremely excited to bring our iconic lucha libre stars into collaborations with an artist known for his innovative and intricate work, including reimaging luchadores in religious contexts."
"Masked Republic is proud to represent many of the biggest names in the lucha libre world," Masked Republic founder and CEO Ruben Zamora added. "Our Mexican Megastars™ including Konnan, LA PARK, Dr. Wagner Jr., Solar and Cassandro are known not only in Mexico, but throughout the world as icons, pioneers and revolutionaries of the sport. Creating officially licensed art and merchandise has always been a priority of ours and we knew we wanted Pale Horse to be our first partner in this venture. His Rey Mysterio work for WWE and his own lucha libre inspired creations, like his Last Fiesta piece, really capture the beauty, color and boldness of lucha - the likes of which I have never seen before."
Known for his bold, colorful and iconic illustration style, Chris Parks, AKA Pale Horse, is relentlessly inspired by the world around him and his work offers a true sense of fascination and evolution as it is constantly expanding and diving head first into new and unexpected territories. Along with his prints, t-shirts, murals, typography and gallery works, that include everything from skate decks and luchador masks, to stained glass and layered wood pieces, Pale Horse is represented by NYC based commercial Illustration agency, Bernstein & Andrulli, and has been commissioned to create illustrations for athletes, music festivals, bands, book covers, tattoo studios / conventions and top brands such as: WWE, NIKE, Mini Cooper, PBR, FX, Arnette, Inked Magazine, Hasbro and many others.
"At this moment in time, I couldn't ask for a more exciting brand to collaborate with than Masked Republic. I've long been fascinated by the mysterious world of lucha libre and when Masked Republic approached me about joining forces to create illustrations and products for their iconic characters, I jumped at the chance. Masked wrestlers have been making their way into both my personal and commercial work for years now and I see this as one of those rare opportunities to do something truly monumental with an underground world that has somehow flown under the radar of the American masses for far too long. We're about to change all that!"
The first "MR x Pale Horse" collaboration will debut during the first quarter of 2015. The Masked Republic Mexican Megastars™ are available for licensing across all product categories worldwide with select opportunities for products to feature Pale Horse artwork.